One of the things for which I will be forever thankful is the love of music instilled in me by my parents. As you could tell if you read last summer's posting called "
Mood Music
", I like all kinds of music. On my radio presets right now I have pop, easy listening, alternative rock, country, 40s, 70s, 80s, 90s, Broadway, Christian, folk and classical. That last one, classical, is especially suited to rainy days, winter afternoons, and the holidays.
Both my parents were musical before they lost their hearing. Dad sang in barbershop quartets and in the church choir, and also played the ukelele (really!) and banjo. Mum played the piano, had perfect pitch, and sang in the church choir. When I was in my teens in New York they joined the "
Classic Chorale Society
" and dragged me to various concerts featuring works by Bach, Brahms, Mozart and Mendelssohn. I didn't like some of the pieces, but I remember one piece - Festival Te Deum, by Britten - that I hated. Mum said to me, some things are just more fun to sing than to listen to, and I should give it a try.
So the next fall I tried out for the choir. The Director, Walter Latzko (who was a well known arranger of barbershop music), was so kind to me, and was happy to have a young person join in. I was 16. (Side note of interest: Mr. Latzko arranged music for The Chordettes, the group who sang "Lollipop" and "Mr. Sandman". He ended up marrying one of them, Marjorie Needham. She was lovely, and I thought it was pretty cool to know someone who had been on the radio. If you don't know the song I mean, then you are very young and you should click
here
.)
I really had no idea what I was about to experience. We spent the fall learning a number of Christmas choral arrangements, and focused particularly on the choral pieces from Handel's Messiah. Mr. Latzko announced that our choir was to be part of a group that would perform the Messiah at the West Point Cadet Chapel, about 10 miles from where I lived.
If you have been to West Point, go ahead and skip the next couple of paragraphs. If you haven't, then feast your eyes on this glorious "chapel" that sits at the mouth of the Hudson River:
My parents and I went to church here quite frequently when I was growing up. We really liked the Minister, the history, the ambiance, and especially the music. I used to tilt my head waaaaaay back to stare at the flags that are hung down either side of the aisle - they are all real and from many historical battles. Some are tattered and torn, and all represent loss and victory and sadness and pride.
In the picture above you can see the long straight aisle. At the beginning of church the Cadet Choir would stand at the back and sing the call to worship, the booming male voices (this is before women were allowed, if you can believe it) glorifying God and echoing off the arches. They would then march kind of a slow march down the aisle, swishing their feet in perfect time. I loved the pomp and circumstance associated with this place, and have many fond memories of going to church there. I even remember a sermon or two... but that's another story.
So you can imagine that I was pretty excited and impressed when I heard we were to be part of a 500 voice choir that would perform here during the Christmas season, accompanied by a baroque orchestra and the world's largest church organ (no kidding - it's huge - look):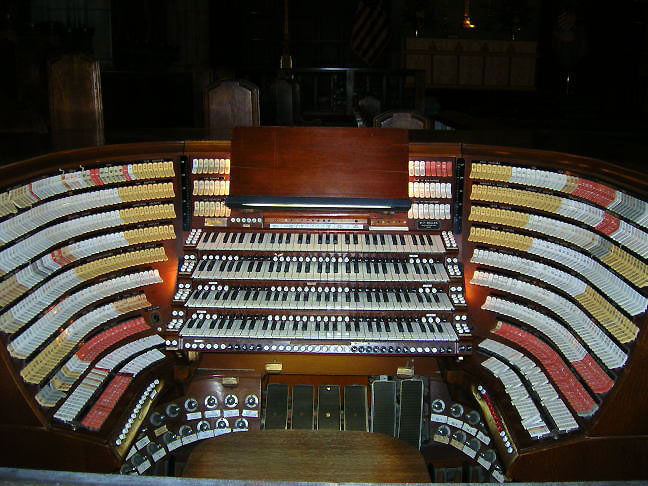 The Messiah was composed in 1741 by George F. Handel, and is divided into three parts - the first is the Christmas story, the second is the Easter story and ends with the glorious Hallelujah chorus (which is oddly associated with Christmas), and the third is about the final Resurrection and the victory over sin and death. It ends with the most glorious Amen that never fails to give me goosebumps - in fact, I found one quotation that says the last Amen should "

be delivered as though through the aisles and ambulatories of some great church."
Indeed the West Point Cadet Chapel is "some great church".

Singing the Messiah for the first time was an important moment in my life. Not only for the bonding time with my parents (my mother and I were both altos), but also for the spiritual reinforcement of my faith and the meaning of Christmas.
Today I try to go to a performance of the Messiah every year - whether the Toronto Mendelssohn Choir, the Taflemusik Choir, or even the sing-along
Tafelmusik
version (which is great fun) - and if I can't go, I certainly listen and sign along by myself! This year I heard Tafelmusik's performance at the beautiful
Koerner Hall
at Toronto's Royal Conservatory of Music. The venue was stunning, and the performance moved me to tears. The thought of my parents being unable to hear this glorious work made sad tears, the nostalgia of many many years of happy memories singing this with friends and family created wistful tears, and of course the beautiful and comforting words like
Come unto Him, all ye that labour, come unto Him that are heavy laden, and He will give you rest. Take his yoke upon you, and learn of Him, for He is meek and lowly of heart, and ye shall find rest unto your souls.
made me remember that everything will be all right and so I shed a few happy tears.
The final Amen is too moving for words. Click below and listen and maybe go hear it for yourself if you have time this year. If not, mark it down for December 2012. You'll be glad you did!